Post by Lunarfeather <3 on Sept 14, 2008 15:35:16 GMT -5
Title:
Ashfur's Random Day
Chapters:
1 (Maybe more if I feel random...)
Author:
ME!
Pairing:
Oh God. Ummmm..... AshXSquirrel references, BrambleXSquirrel, WhiteXBirch, WhiteXThorn, Maiko, Zuatara, Kataang, and Tokka references
Rating:
Ummmm..... PG 13
Spoilers:
Eclipse (The POT's Warrior Names)
Summary:
After a discussion about how being emo affects your fangirls, Brambleclaw and Ashfur are plauged with what they feared the most : every she-cat in ThunderClan is in love with......ZUKO.
Warning:
Their's ALOT of ZukoXEveryShe-CatinThunderClan, Maiko yumminess, Zutara bashing, and Berrynose gayness.
Disclaimer:
That poneful picture that Rosekit found on her laptop is not by me.
Original :
under-the-apple-tree.deviantart.com/art/WitchandtheWeeb-ds-hina-84445612
Beta:
Nope.
Cover:
None, but :
i428.photobucket.com/albums/qq5/firenationprincess/MAIKOZOMG.gif
SEE THE AWESOMENESS!
Author's Notes: Plez don't be offended. Brairkit's Friendlies coupon has not been harmed. (:
Chapter # 1
It was a beautiful day in green-leaf as the birds chirped their melodic songs, the sun shown brightly on the moors, and the cats of the forest lazily laid around whilst waiting for adventure.
One of these happened to be a gray blob of fluff sunning himself in the middle of ThunderClan camp. He sneezed as a feather of a pigeon ticked his nose, his paws straightening as he pushed back.
"Can this day get anymore boring?" he moaned to himself, covering his eyes with his paws.
A dark brown tom sat down beside him, a smug smile across his face.
"Ashfur, its time I told you the secret to my awesomeness," meowed the tabby, his amber eyes glinting in the sun.
Ashfur frowned and looked up at the brown cat.
"I'd rather you didn't."
"Of course, you could never reach my height of awesomeness, but you deserve to know how I do it," replied the tabby, not acknowledging Ashfur.
Ashfur sighed and closed his eyes.
"Alright, Brambleclaw."
"Well, not only was I just born awesome, I was mentored by the main characters. Nobody remembers who you were mentored by," scoffed the tabby.
"Dustpelt was a great mentor!" hissed Ashfur, glaring at Brambleclaw.
"Psh, whatever. But another thing is my name. Everyone except Thornclaw gets tons of attention if your name ends in claw. I mean, my father, my father's mentor, Thistleclaw, Mudclaw," recited Brambleclaw as Ashfur groaned in boredom.
"Another thing is my fan club."
Ashfur's ears pricked up at the name.
"What?"
"My fan club. Thousands of rabid fan girls swooning at my name," grinned Brambleclaw.
Ashfur stood there with his mouth agape.
"And you know why I have so many fan girls?" meowed Brambleclaw, flicking his gaze to Ashfur.
Ashfur was just awestruck.
"Because I randomly angst, have family problems, went on a super awesome journey, got my leader's daughter, became deputy, had an apprentice, had my face on a cover of the book, and fathered the 3 most power kits known to ThunderClan."
Ashfur was basically drooling now.
"But the main reason why I have so many fan girls, is that I was totally emo for like 2 books."
"What does eyeliner have to do with anything?" mewed Ashfur.
"I don't know. But think about it, me, Jaypaw, Zuko, Mai, that guy from My Chemical Romance, ya, they all were emo, and look at all the attention they get," meowed Brambleclaw. "People only like you because they fee sorry that you didn't get Squirrelflight."
"So I will have thousands of rabid fan girls swooning at my feet if I'm emo?"
"Well, or you could try some other things."
"Like what???"
"Well, you could turn evil. Look how much attention Tigerstar gets, and he's dead!"
Ashfur quickly threw that thought away.
"You could create a scandal. I mean, look how much fan-art Thornclaw's been getting jut because he shared tongues with Whitewing," meowed Brambleclaw.
Ashfur's face turned green.
"Or you could give all the fan girls inspiration for yaoi fan fictions."
"EW, that stuff Poppyfrost reads on the Internet???" gagged Ashfur.
Brambleclaw nodded grimly.
"Honeyfern reads them too."
"No I don't! I only read Maiko lemons, god!!!!" hissed Honeyfern, throwing her computer mouse at Brambleclaw.
"Ew, Maiko is so stupid! Its all about Zuatara now, honey!" replied Ashfur. (No pun intended.)
Honeyfern gasped and called for Hollyleaf.
"OHMYGOD! SHUN THE MAIKO HATER! SHUUUUUUUUUUUUUUUUUUUUUN!" yowled Hollyleaf.
"Did someone say Zuatara???" meowed a very happy Longtail.
"They all suck except for Kataang!" hissed Mousewhisker.
"I'm more of a Jetzula fan!" meowed Lionblaze.
"EW!" yowled Hazeltail.
"Tokka forever!!!" replied Rosekit.
"OHMYGOD!"
"What???" mewed everyone, starring at Cloudtail.
"SOMEBODY HACKED MY MYSPACE!!!!" he wailed with sorrow.
"Ew," replied Whitewing.
"OHMYGODDIDYOUSEETHETWILIGHTMOVIETRAILERYET?" screeched Ferncloud.
"What?" replied Daisy.
"DIDYOUSEETHETWILIGHTMOVIETRAILERYET?


??"
"YES! Oh my god, Edward is like sooooooooooooooooooo dreamy," purred Millie.
"Jacob's better!" hissed Daisy.
"YOU FREAKIN FORGOT TO RECORD THE AMERICA'S NEXT TOP MODEL FINALE?" yowled Icepaw, smacking her brother upside the head with a leaf.
"But….But CSI was on!" wailed Foxpaw.
"MOMMY!!!!"
"Yes, Brairkit? Oh my, what's wrong?" mewed Millie.
"BUMBLEKIT ATE MY FRIENDLIES' COUPON!"
"It smelled like cheese…." purred Bumblekit.
"ZOMG I FOUND THE WEBKINZ DIAMOND! MY WEBKINZ CROWN IS COMPLETE!" squealed Berrynose, dancing around the clearing.
"ZUKO IS MINE!" hissed Sandstorm, circling Cinderheart.
"I call dibs on Sokka," grinned Leafpool.
"Psh, the only guy you'd get is Foaming Mouth Guy!" spat Cinderheart.
Sandstorm hissed and started her breaking exercises to calm down.
"Haru's moustache makes me want to barf," replied Firestar.
"Isn't Suki so cute?" sighed Jaypaw.
"Psh, Ty Lee is hotter," grinned Birchfall.
Whitewing's eyes started to twitch and she started to spaz.
"I WANT THAT BITCH DEAD!" she yowled.
"OHMYGOD MAIKO FANART!" squealed Blossomkit, showing all the swooning girls her laptop.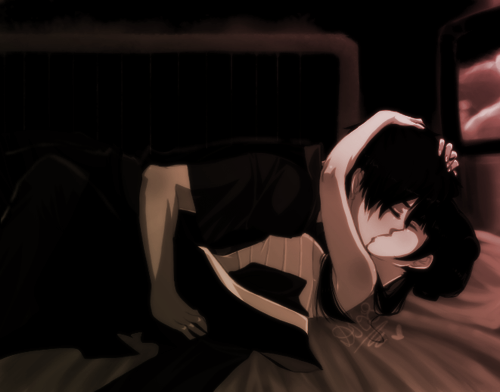 "I wish I were Mai," sighed Squirrelflight.
Brambleclaw threw a potato at the computer, which had a seizure and died.
Leafpool began angsting about how she was too late to save it, and went into a period of depression where she only ate Taco Bell salsa.
THE END
SO COMMENT OR YOU ARE ALL